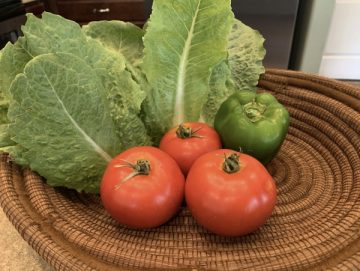 I will admit it…I am a tomato snob from the Midwest!  Growing up in Indiana, eating a juicy, red beefsteak tomato from my backyard garden was something I looked forward to each summer.  It is a food flavor memory that I will never forget, and it makes it tough to buy a tomato from the grocery store that looks pretty, but has NO flavor! Since moving to Prescott Valley, I have attempted to continue growing delicious tomatoes in my backyard raised garden bed.  I have discovered that growing tomatoes in Arizona presents many challenges that I never encountered before: the altitude, the intensity of the sun, the dry air, poor soil, and lack of rain.  After many experimental attempts, I have learned what works best.
First, I built a 5'x 8' raised garden bed which is filled with good garden soil.  I also use large containers to create more above ground space.  The raised bed has irrigation so the water supply is consistent.  I enrich the soil each year with compost.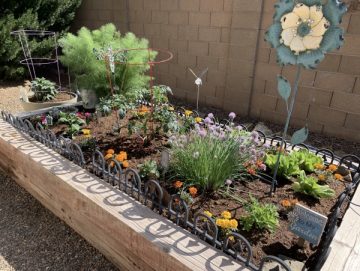 I always use companion plants next to the tomato plants to inhibit aggressive insects.  Plants that work well (because of their strong smell) are: marigolds, herbs such as basil and sage, chives, and fennel.  
I have tried many varieties of tomato plants over the years I've lived in AZ.  I really love the flavor of heirloom tomatoes and appreciate the size of beefsteak tomatoes.  However, I have discovered that neither
of them do very well here.  The intense heat of the sun makes it tough for them to produce much fruit.  I've even erected an awning of sunshade cloth above the garden to reduce the effects of the sun and it does help some.
The varieties that DO work well here are Early Girl tomatoes and Husky Cherry Red tomatoes.  The Early Girl plants produce starting in late June all the way through the first frost.  The Husky Cherry Red plants are bushy, and grow well in my containers.  They produce from early July through frost.  The flavor of both varieties is great! Roma tomatoes also do well. Through trial and error, I have learned which tomatoes I can count on for success in my small garden space, so I grow them every year.  You can too!