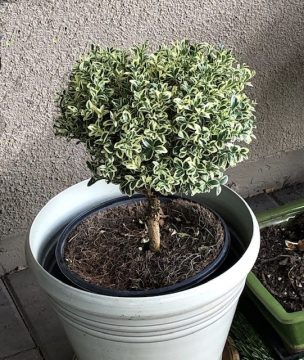 Gardeners interested in topiary practice an ancient art dating back to Roman times. By selecting an evergreen with small leaves or needles and dense foliage, the gardener's shears transform plants into geometric or other recognizable forms. Some Japanese gardeners prune forms into cloud shapes. The selection of boxwood traditionally created pottages, mazes, spheres and hedges in formal gardens particularly in England and France. Due to boxwood blight many gardens in Europe are transitioning to other plants for topiary. The dry conditions in the Southwest protect boxwood from blight and according to the Master Gardeners in Yavapai County no blight has been reported.
To plant in a container, select a pot approximately 2 inches larger than the root ball. You can set your new purchase in the pot to check that there is sufficient room for the roots. At our altitude and level of sunshine, place the pot where it is protected from intense afternoon sun. Boxwood should be protected from windy conditions as well.
Trim boxwood in the spring or six weeks before the last frost to encourage lateral shoots to form. Another light trimming may be done in midsummer (perhaps during monsoon) to define the shape. Although, Linda Vater (look for her on YouTube) an expert in topiary strongly suggests to never trim topiary when it is wet. For winter protection of boxwood in containers, mulch with wood chips or leaves, and wrap young plants.
Some shrubs that respond well to topiary include: arborvitae, yew, privet, lavender, rosemary and Japanese holly. Choosing an evergreen plant means the topiary will provide a year long garden feature. The most common shapes include cubes, balls, cones, spirals and standards (lollipops). But, modern topiary includes fanciful shapes from space aliens to Disney characters and the family dog.
Creating topiaries usually takes years as a plant matures and judicious trimming coaxes the plant into the desired shape. For those in a hurry, forms or cages can be purchased from garden suppliers and covered in ivy or rosemary for instant gratification. Although, this too may take several months. The reason purchased topiaries are so expensive is the grower has invested years of shaping until a specimen is large enough for the retail market. These shrubs will cost anywhere from hundreds to thousands of dollars.
A link that you might like to explore:
https://www.monrovia.com/be-inspired/10-things-topiary-lovers-should-know.html