Book Titles
The $64 Tomato
A-Z of Annuals, Biannual and Bulbs
Arizona Weeds – an Illusrated Guide
Art of the Kitchen Garden
Best Plant Book Ever
Botany of Desire
Building Outdoor Structures
Carrots Love Tomatoes
Container Gardening
Desert Wildflowers
Everyday Garden Solutions – Reader's Digest
Flowering Plants
Garden Decorating Book
Garden Madness
Gardening for Life – The Biodynamic Way
Great Plants for Small Gardens – Japanese Gardens
Harvesting Rainwater for Landscaping
Japanese Gardens
Kitchen Gardeners Handbook – Design Plans
Let it Rot – Composting
Native Plants for High Elevation Western Garden
New Small Garden
Organic Gardening for the 21st Century
Potting Sheds – Romance of Gardeners Made Simple
Raised Bed Vegetable Gardening Made Simple
Successful Gardening
Sunset Western Garden Book
Supermarket Super Gardens
Talking Dirt – Organic Gardening
Tea Gardens – Places to Make and Take Tea
Tulips
Vegetable Gardening – Simple Steps to Success
Vegetable Gardening in the Mountain States (Idaho, Mountain, Utah)
What's Wrong with My Vegetable Garden – 100% Organic Solutions
You Can Garden Anywhere – Tips the Experts Don't Want You to Know
DVD Titles
Extraordinary Birds
Pruning
The Art of Gardening
If you want to check out a book, please email Karen Crossley <kwilcross@gmail.com> with the title.  You can pick it up at the next meeting. 
Many of these books are available at Amazon.com. 
More Details on the Books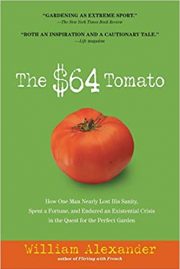 William Alexander
A humorous essay detailing the design, construction, nurturing, and fruition of a garden on Long Island. It chronicles overpriced landscape architects, lackadaisical contractors, plagues of Japanese beetles, and the accounting details of how one Brandywine tomato is reconned to cost $64. It captures the spirit of why we garden, and what it costs us.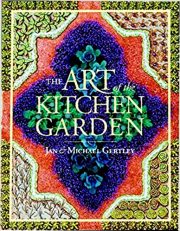 Art of the Kitchen Garden
Jan Gertley
Taunton Press, 1999
150 pages.  8.5″ x 11″
Artistic designs, and plants that feature colorful foliage and flowers figure prominently in this book that celebrates the sort of kitchen garden common within the French Ancein Regime and now rarely found outside bits of the Loire Valley.  It provides information on artful designs and plant selections that will bring them to fruition.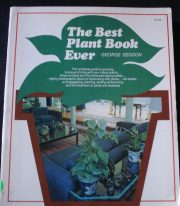 Best Plant Book Ever
Comprehensive Guide to Living with Plants
George Seddon
Rand McNally, 1977
Michael Pollan
Everyone's favorite food anthropologist teaches us why we like peaches.  
Building Outdoor Structures
Scott McBride
Taunton Press 2007
192 pp. 9.19″ x 10.38″
A detailed how-to guide for using wood to construct pergolas, arbors, retaining walls, and more.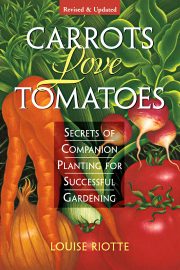 Carrots Love Tomatoes
Secrets of companion planting for successful gardening
Loise Riotte
Storey Publishing
224 pp 6″ x 9″
Companion planting can  increase yield, preserve soil fertility, and repel pests.  This guide suggests some of the best and worst pairings. Parsley loves asparagus, but broccoli hates tomatoes.  Follow good companion planting and help your garden become its own healthy ecosystem.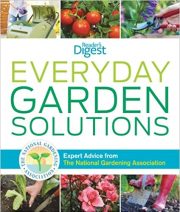 Everyday Garden Solutions
National Gardening Association. 
256 Pages.  7.8″ 9.9″
Questions answered about weather, composting, ground covers, roses, bulbs, and so on. Perhaps there is some talk of dirt since it talks about a reading age of 18 years and older.  Its sole reviewer gave it one star at Amazon.com.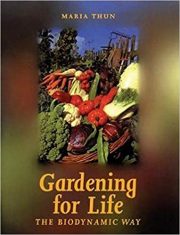 Gardening for Life – The Biodynamic Way
Maria Thun, Matthew Barton (Translator)
Hawthorne Press, 1999
128 pages, 6.5″ x 8.5″ 
Nurture the soil and your plants will grow.  The book addresses building and maintaining soil fertility, good planting times, biodynamic preparations,  and dealing with diseases and pests. 
Great Plants for Small Gardens – Japanese Gardens
Harvesting Rainwater for Landscaping
Patricia Waterfall
Arizona Cooperative Extension Service
56 pages. 
The publication discusses how to collect and store non-potable rainwater for the purpose of keeping landscape plants alive. Starting with simple methods and working toward more complex ones, it covers components and system design considerations.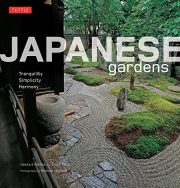 Mehta & Tada
208 pages, 9.0″ x 9.5″
Capturing the tranquility, elegance, and serenity Japanese gardens evoke, this tome features  exquisite photograpy of 20 such gardens. 
Kitchen Gardener's Handbook
Bartley
224 pages 8.56″ x 10″
One grows food for the kitchen in order to have what cannot be found in grocery stores.  Here's a good place to start learning how to work with the seasons, the soil, and the special plants that make it all worthwhile.  
Let it Rot – A Composter's Handbook.
Native Plants for the High Elevation Western Garden.
Organic Gardening for the 21st Century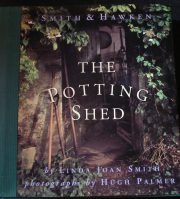 The Potting Shed – Smith & Hawken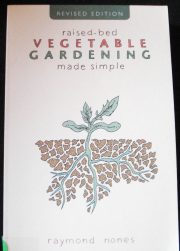 Raised Bed Gardening Made Simple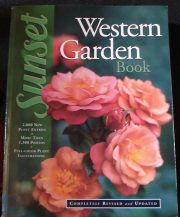 Sunset Western Garden Book
Talking Dirt – Organic Gardening
Annie Spiegelman
Tarcher Perigree
304 Pages.  5.49″ x 7.56″
"Down to earth advice" on worm cultivation, healthy soil, irrigation systems, pruning, and plant combinations.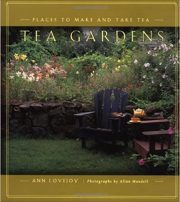 Tea Gardens – Places to Make and Take Tea
Ann Lovejoy & Allan Mandell (Photographer)
Chronicle Books, 1998
120 Pages, 7.3″ x 8.3″
This beautifully photographed guide illustrates both design strategies and planting plans  to create comfortable outdoor spaces that invite you to linger  – prefereably with the cup of tea you have brewed per the instructions also found in the book. 
Vegetable Gardening – Simple Steps to Success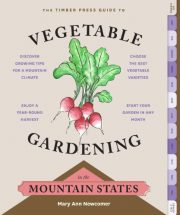 Vegetable Gardening in the Mountain States
Mary Ann Newcomer
Timber Press, 2014
280 Pages.  
Region-specific information can be crucial to success in Vegetable gardening from when to set out seedlings of each plant and how to protect them from untimely frosts to dealing with local and regional pests, weeds, and diseases.  This book "takes that task head-on." The mountain states, btw, share low humidity bright sun, and wide temperature swings.  Even though AZ is not in the list, this should be a good reference for high altitude areas near Prescott. When I checked on 20Feb2021 you could buy the paperback version at Amazon for $120.73.  So, we've got quite a resource here!
What's Wrong with My Vegetable Garden? –  Organic Solutions
Dan Deardorff & Kathryn Wadsworth
Timber Press 2011
252 Pages.  7.69″ x 9.25″
Packed with great photographs it a perfect place to start diagnosing vegetable garden problems.  It offers organic solutions to solving them and to avoiding them in the firstp place.  Reviewers say "Hooray," and "Very, very helpful.."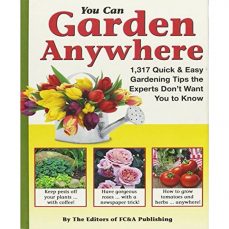 LFC&A Publishing
378 pp 6″ x 9″
Packed with 1317 garden tips. And probably as many exclamation points, it will help you:
"Enjoy the garden of your dreams without breaking your back!"
"Grow anything in any nook or cranny!"
"Turn rock hard dirt into perfect topsoil"
"Steal the secrets of professionals and save thousands of dollars a year."
"And more..!"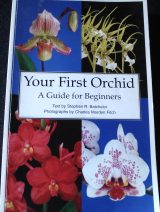 Batchelor & Finch
Growing orchids can be tricky.  This guide helps one navigate the special problems of these plants.  The good news, is that if you can succeed with them, they can be an almost perpetual source of color and form in a home, extending horticultural success to aesthetic triumph.