Highlands Center for Natural History (HCNH) Garden Volunteers 2021
The following is a list of upcoming and ongoing opportunities to volunteer at HCNH for people with experience and/or passion for the care of native plant communities. Volunteer opportunities vary in commitment and can be tailored to match individual needs/interests with those of HCNH.
Due to the ongoing pandemic, all volunteer opportunities at HCNH are limited to outdoor tasks that require independent or small group work…so gardening!
Garden volunteers will work in collaboration with HCNH staff. If you are interested in joining the amazing HCNH volunteer team in this capacity please contact Sarah Vincent, Education Director, at svincent@highlandscenter.org.
Thank you in advance. HCNH is only sustained through volunteer support. For more information about our mission and identity please visit: https://highlandscenter.org/ and come out for a visit!
Discovery Gardens Opportunities:
The mission of the Discovery Gardens is to increase knowledge and connection to the Central Highlands diverse plant and animal communities for all.
Join the Discovery Gardens subcommittee (new in 2021)

Oversee and collaboratively define the overarching philosophies of the gardens
Contribute volunteer hours in the gardens and work with other volunteers to increase the quality and sustainability
Committee will meet once a month and report to the Facilities and Grounds Committee

"Adopt" an area of the Discovery Gardens. Areas include the Discovery Circles (riparian, grassland, chaparral, woodland, and montane), ethnobotany, Forest Play (nature play area for kids and kids at heart), Entrance and Exit, and Ramada.

Monitor irrigation as adjust/repair as needed. Hand water when applicable.
Occasional pruning, planting, weeding
Research and identification of plants
Serve as an advocate for the area and make recommendations to the committee as needed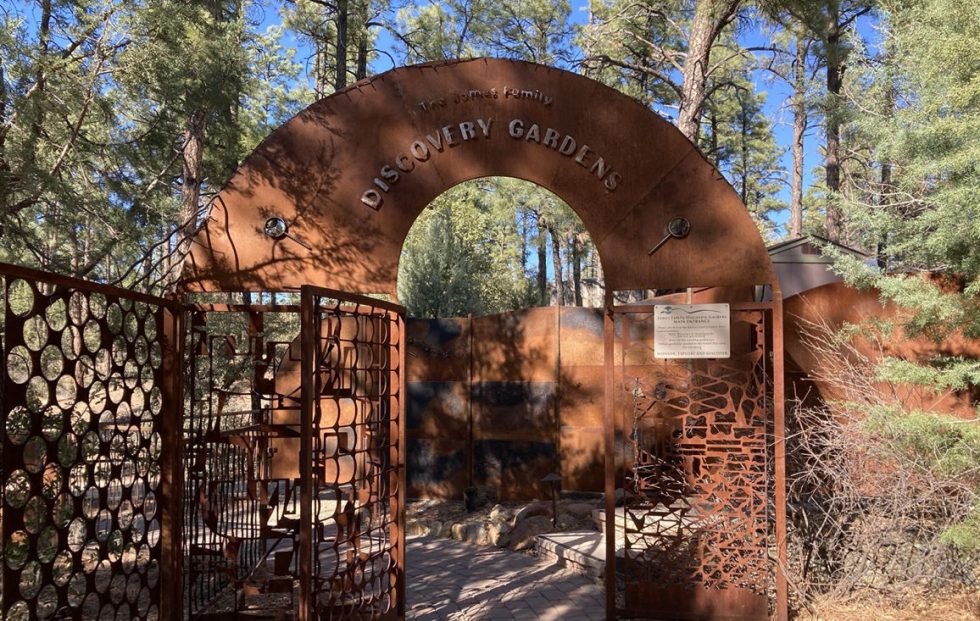 General care

Sweep/blow off pathways
Remove/rake pinecones, etc.
Related Opportunities:
Phenology Trail Rejuvenation and Monitoring

Re-establish a Phenology trail on the trails of HCNH
Monitor weekly and contribute findings to state-wide Phenology network via Nature's Notebook app

Walnut Meadows Restoration Project

Work on special projects in the area which could include plant removal, monitoring and planting

General Trail Care

Maintain clear walking trails by removing obstructions and occasionally cutting back vegetation
Pick up trash!